Garments aren't merely something we wear but rather tell a story about who we are. They are a beautiful way to express ourselves—our innermost thoughts, identity, individuality, and what we believe about the world.
Fashion designers don't always share the multi-layered stories behind each garment in their collections, but I'm here to do just that.
Let's begin with the story behind my signature #BeAPalmTree retro tee that was recently featured in Vogue Mexico.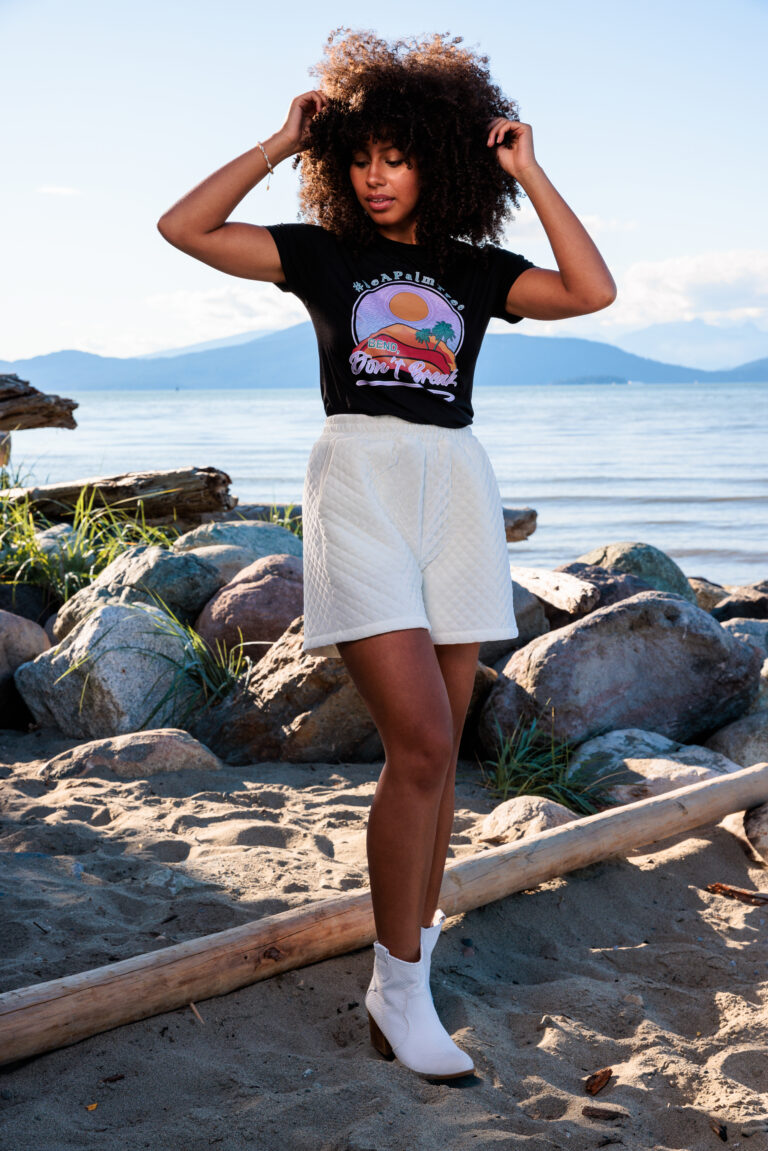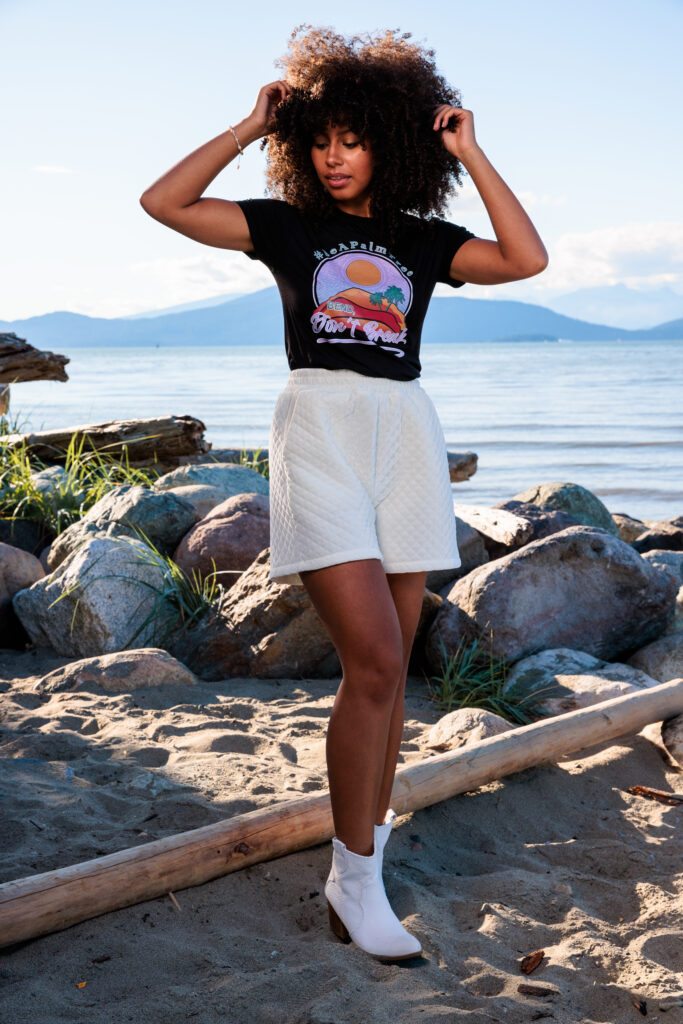 The initial inspiration behind palm trees
When I traveled from Dubai to Abu Dhabi, our guide talked about the importance of date palm trees in the Arab region. After my visit, I did my own research into the significance of these beautifully preserved palm trees.
Date palms are treated as a gift, serving as a source for numerous traditions, customs, and practices. They are also a key form of nutrition rich in dietary fibers, carbohydrates, proteins, and essential minerals and vitamins.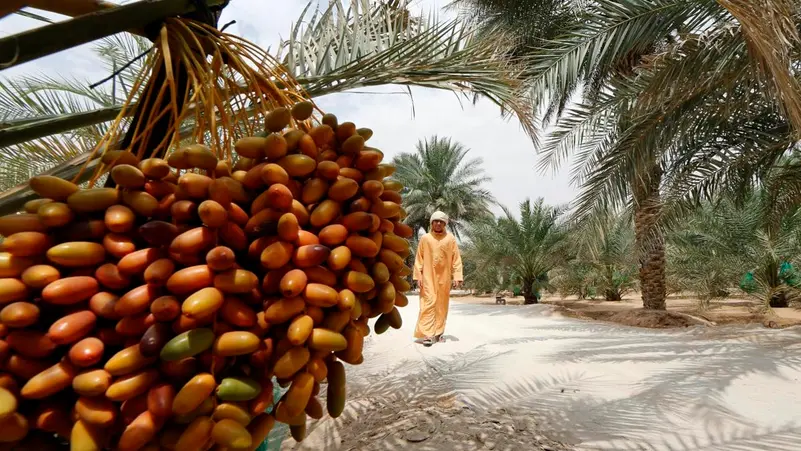 As I continued my search, I quickly discovered their spiritual importance. Palm trees are unique in that they are designed to bend. When storms come, they can bend to the point of being nearly horizontal to the ground. Even then, they don't break.
Once the wind dissipates and a sense of calm returns, palm trees are able to bounce back quickly and stand upright. Not only that, but these trees come back stronger than they were before the storm.
They are a symbol of strength and resilience amidst life's greatest storms. Like you, I'm no stranger to storms. I've faced many challenges, and like the palm tree, I've prayed for them to make me stronger so I can be prepared for the next storm ahead.
As much as we'd like to escape life's storms, it's better to set our eyes on becoming more like palm trees. They bend but don't break, showing us the beauty of getting back up when difficult times try to knock us down.
Inspired by Psalm 92:12, which says "the righteous will flourish like a palm tree," I knew I wanted to create a retro tee with a similar message. My goal was to pay homage to the Emirati desert landscape while incorporating the deeper meaning behind these date palm trees.
Designing the #BeAPalmTree retro tee
Once I decided to create a graphic-style tee highlighting palm trees, I began sketching on paper with oil pastels. Some designers no longer sketch by hand, but I find it inspiring to work with a blank canvas and explore the possibilities on paper first.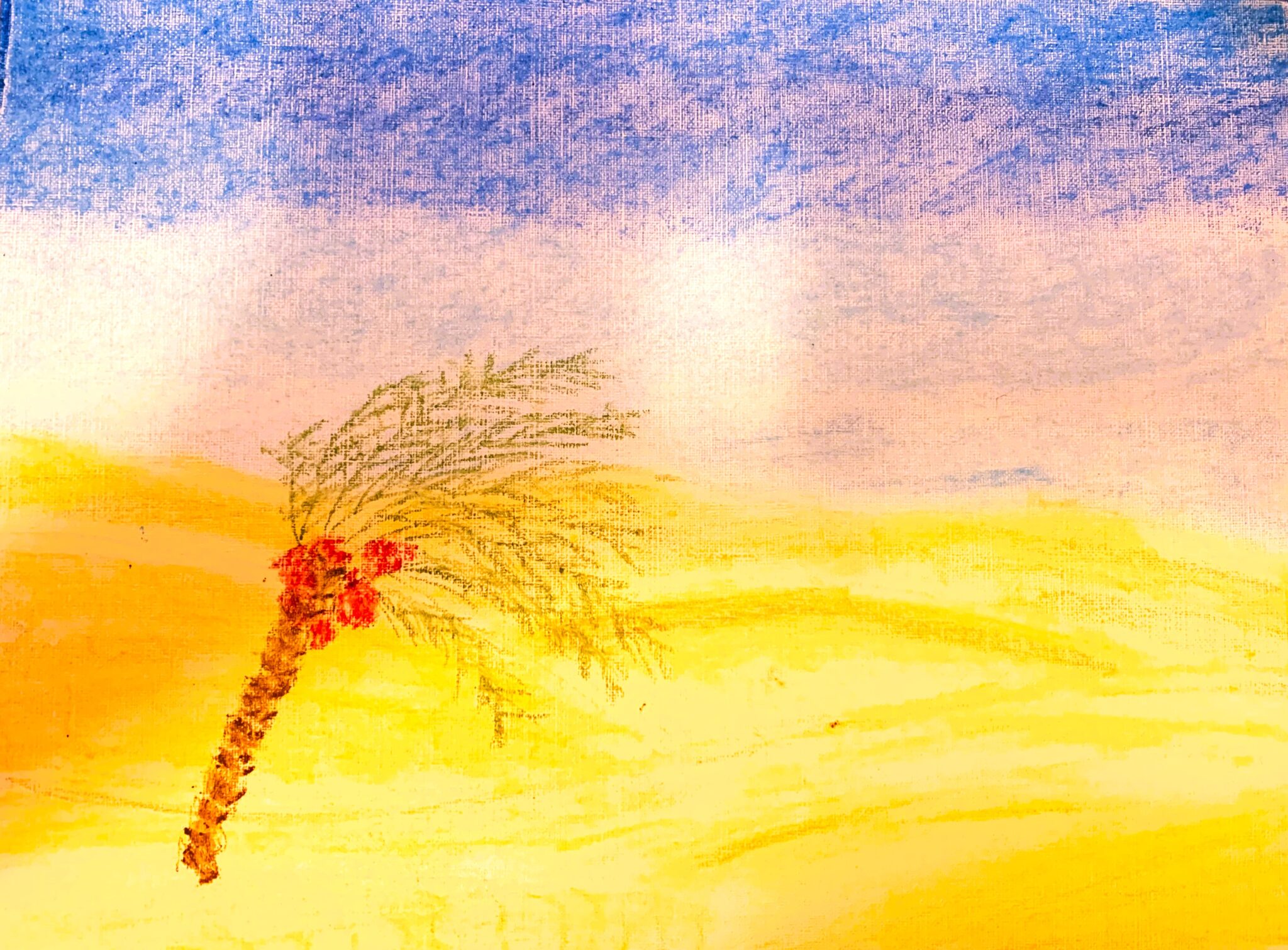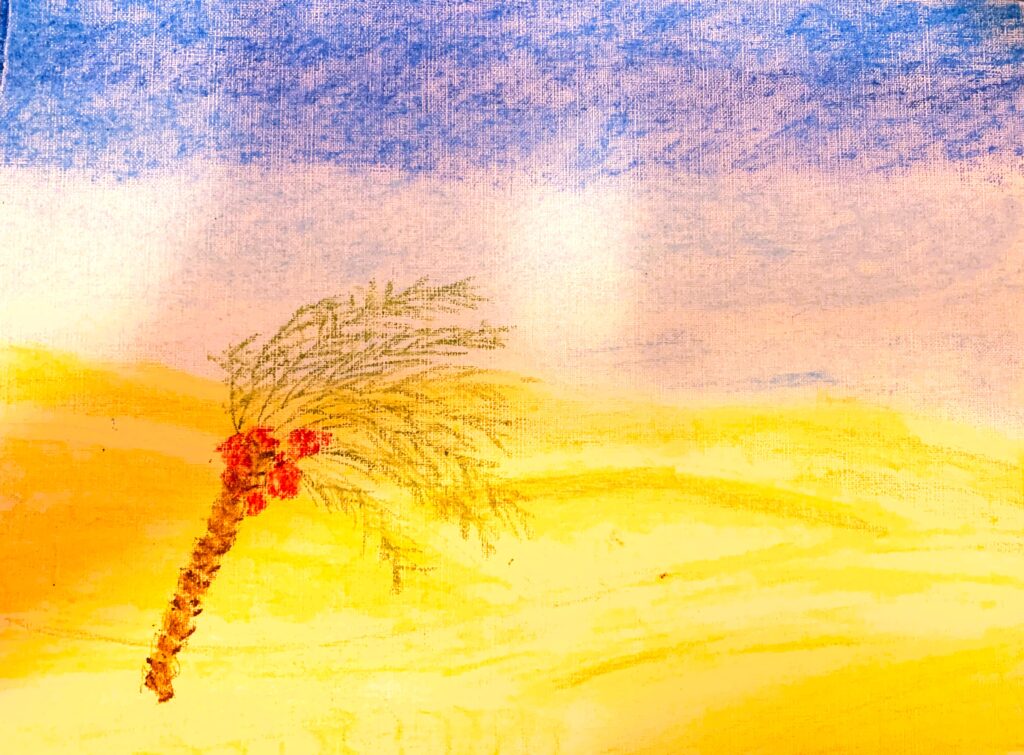 First, I wanted to see what kind of shapes and colors would come out of my initial sketch. Rich hues of blue and yellows were dominant in the landscape with shades of green, red, and brown in the palm tree itself.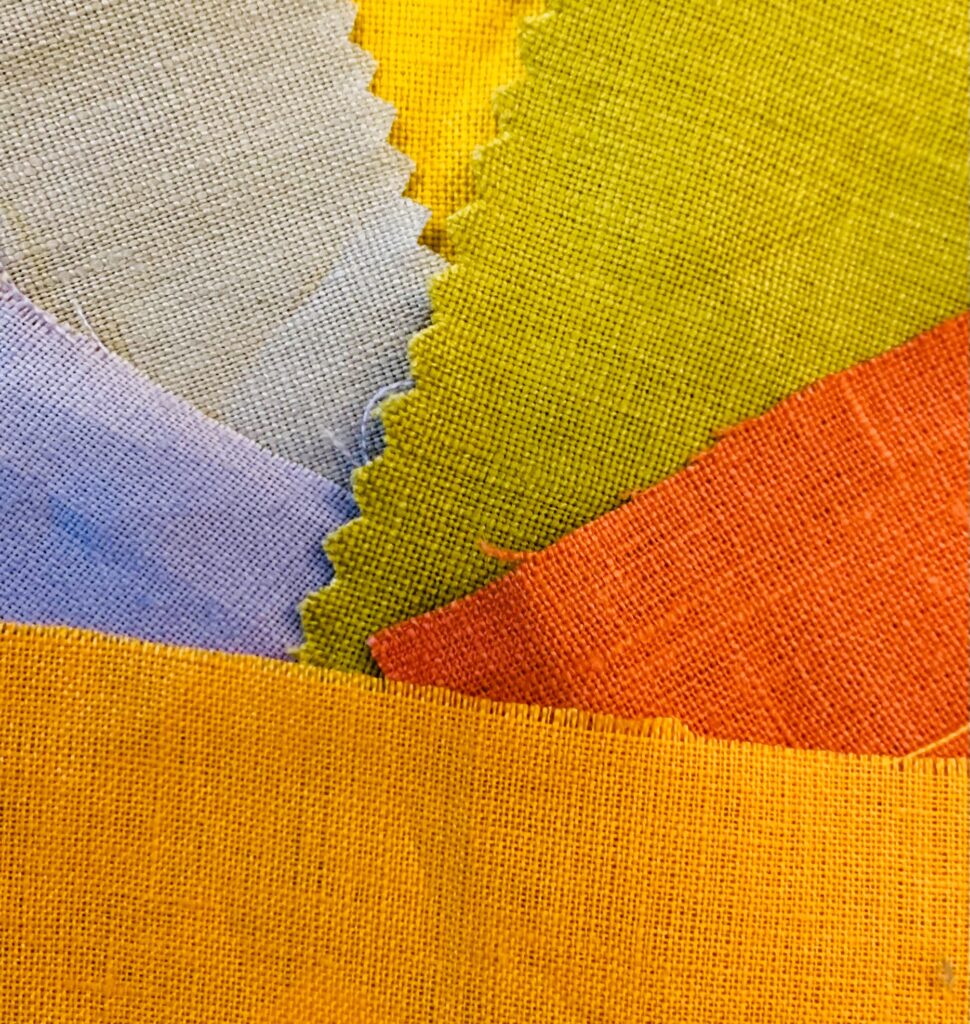 Of course, your first sketch is only a jumping-off point, but it gave me a clear direction when designing the tee's final emblem. 
Inspired by Pantone's SS2023 seasonal palette, we landed on five core colors to create the final digital design. With beauty and originality, the emblem is complete with a Sundial sun, Verdigris bending palms, Luscious Red and Sundial dunes, as well as a Digital Lavender sunset.
While I like to integrate seasonal colors, I consider all of my designs timeless by nature. I care less about trends and more about versatility and sustainability—the heart of slow fashion.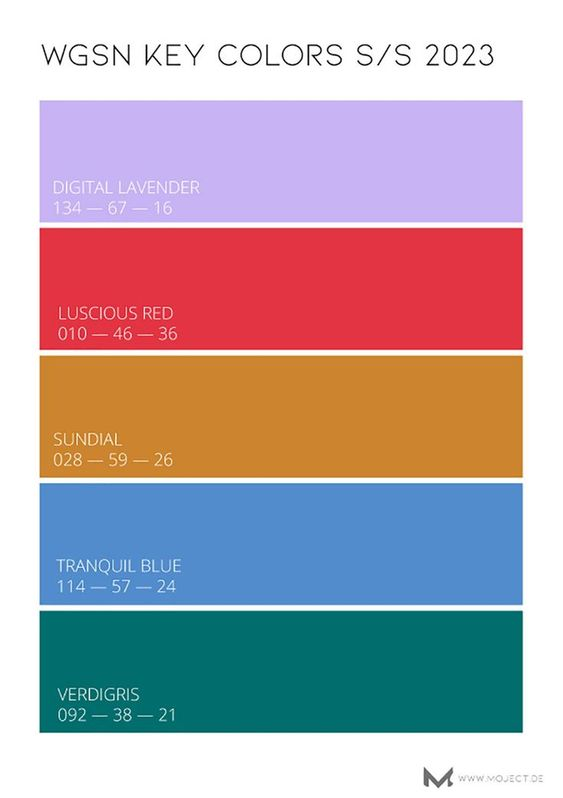 Once I had selected a color palette, I researched graphic elements and bought the ones I wanted to include within the design.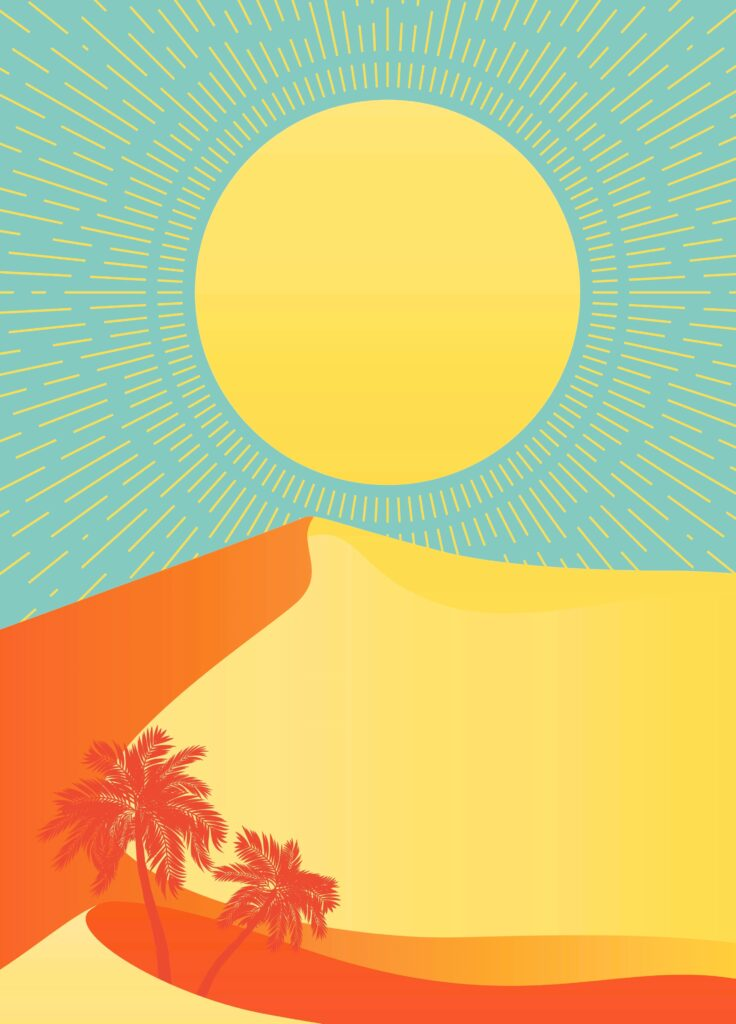 Then, it was my graphic designer's turn to integrate the elements and colors into the emblem. With a few tweaks, we finalized the design below.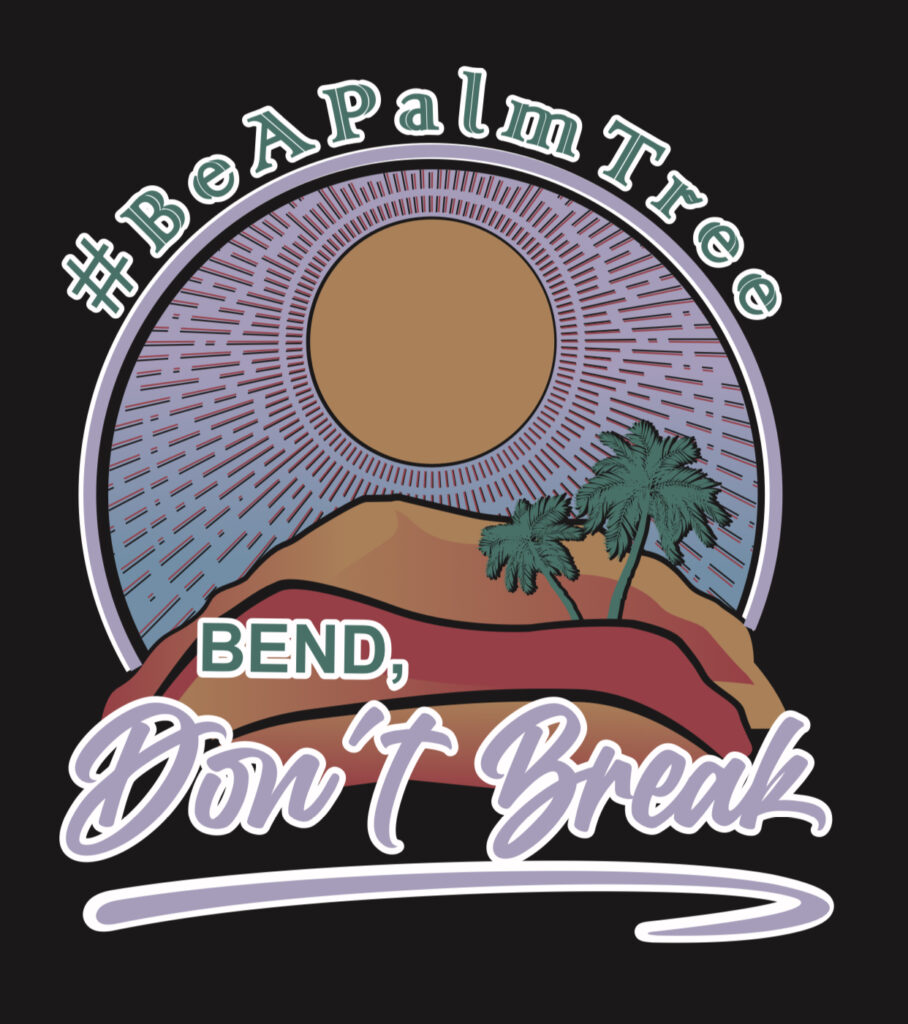 But we were only getting started.
Selecting the fabric and constructing the garments
With the emblem designed, I was able to start the process of drawing the technical flats also know by spec sheets of my design. That way, my product developer Rodica had an accurate and detailed representation of my vision for the garment.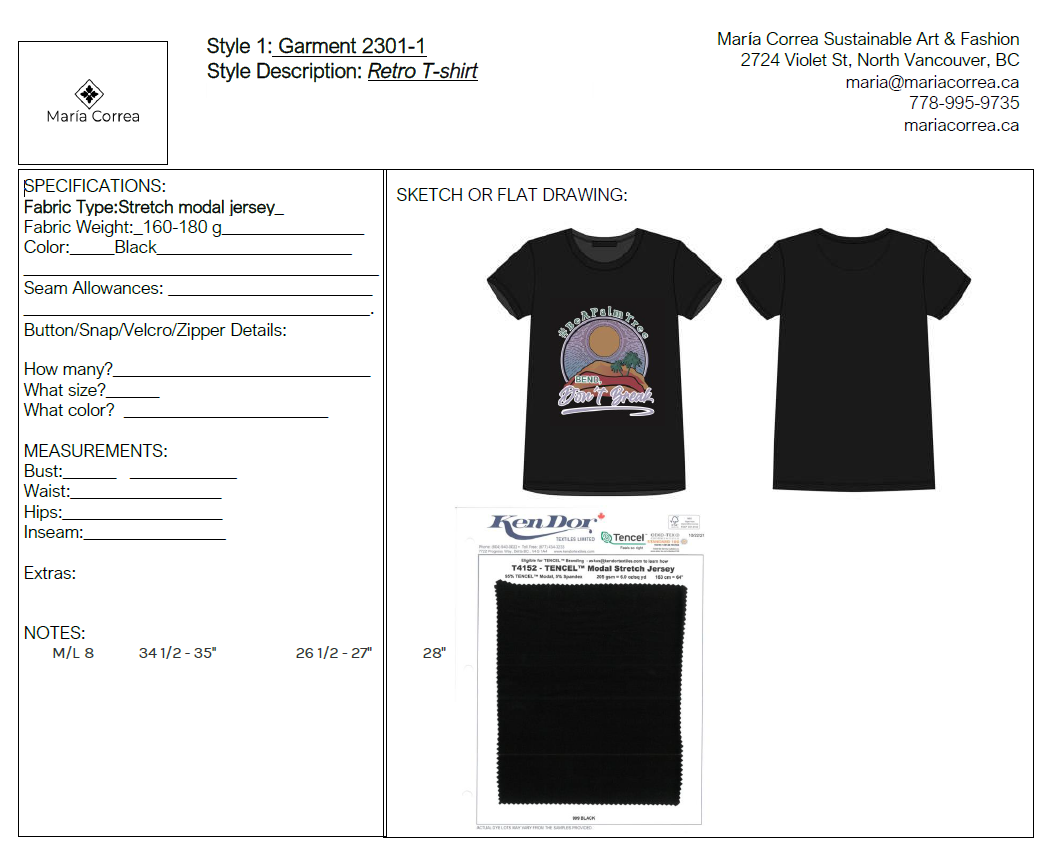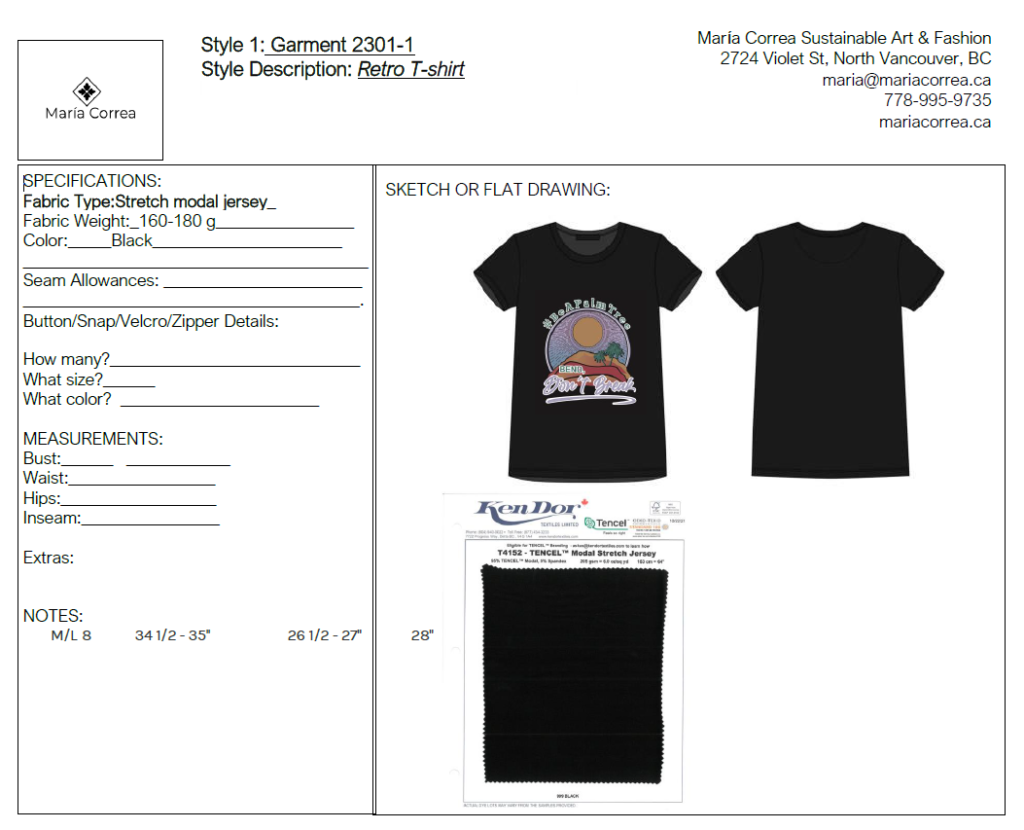 At the same time, I selected the softest and most eco-friendly fabric I could find.
During my attendance at the International Apparel and Textile Fair in Dubai, I connected with a Lenzing representative. Lenzing produces the fibers of TENCEL™ Modal, making it environmentally sound with efficient use of natural resources and low emissions.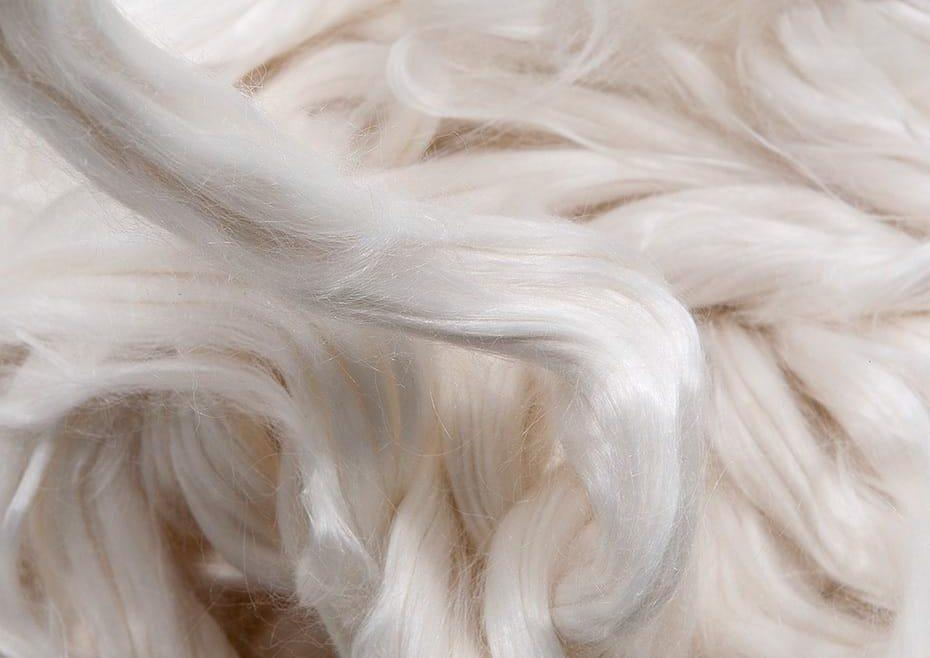 TENCEL™ Modal fibers are extracted from naturally grown beech wood by an environmentally responsible integrated pulp-to-fiber process. This compostable and biodegradable fabric is incredibly soft—perfect for cozy days spent at home or maximum comfort when exploring the world.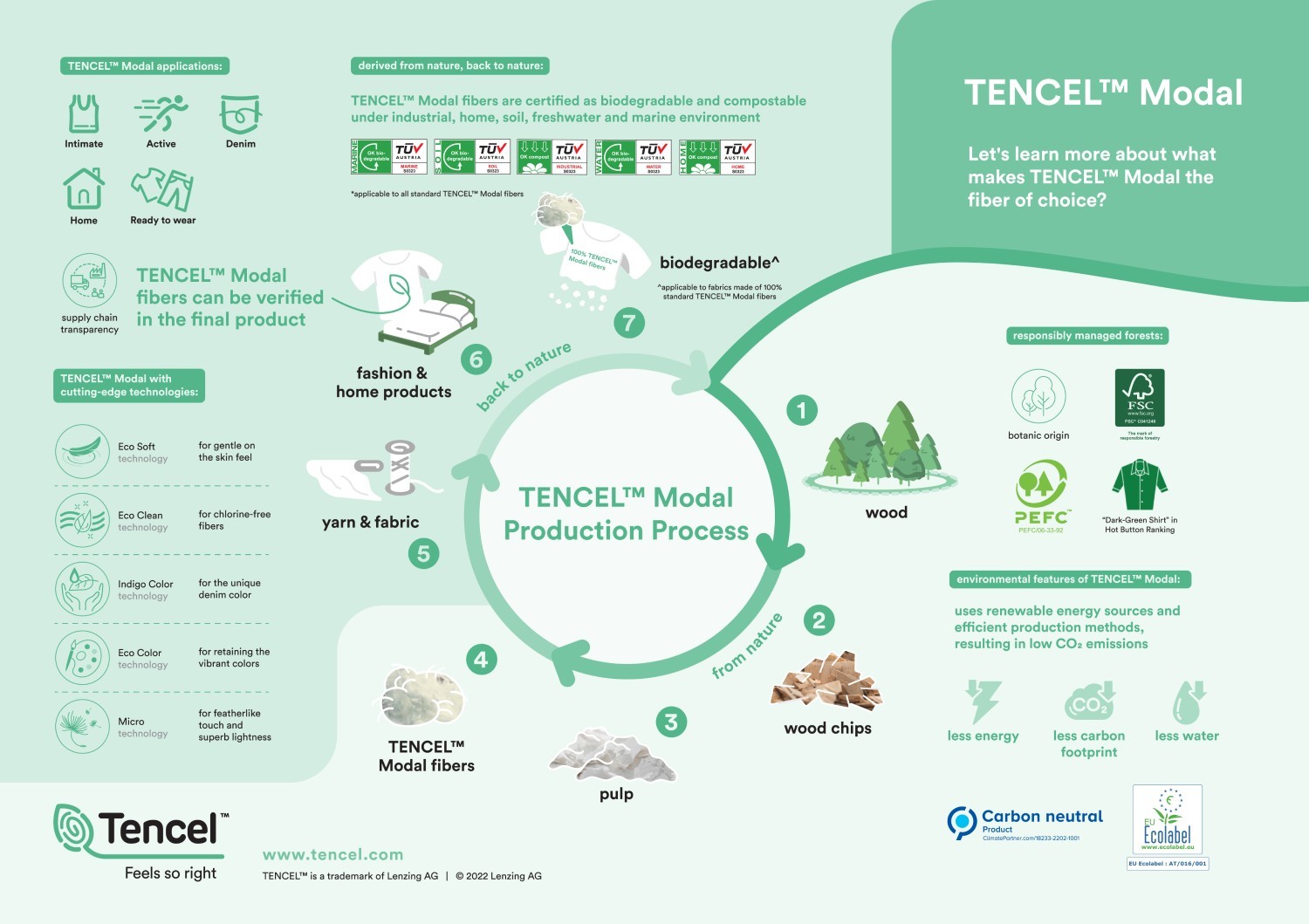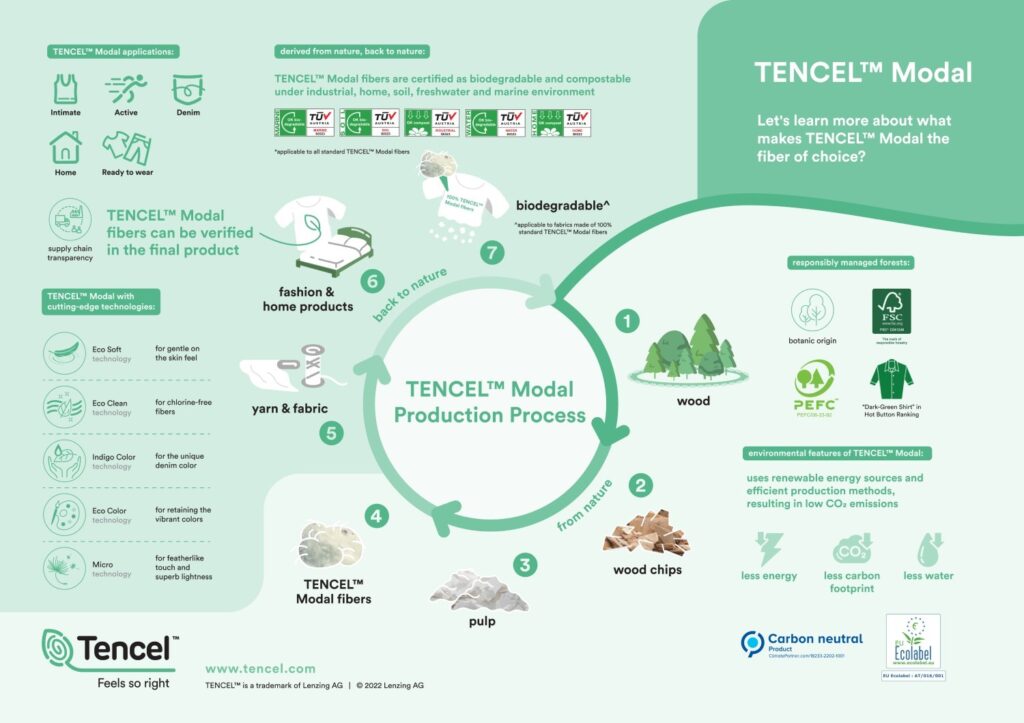 TENCEL™ moisture-wicking fabric helps maintain your body's natural temperature, leading to a more breathable garment. It can withstand hot and humid summer days, perfectly fitting into the desert climate that inspired the design. No sweat marks here!
After learning about TENCEL™ and experiencing it up close, I definitely wanted it for my retro tee.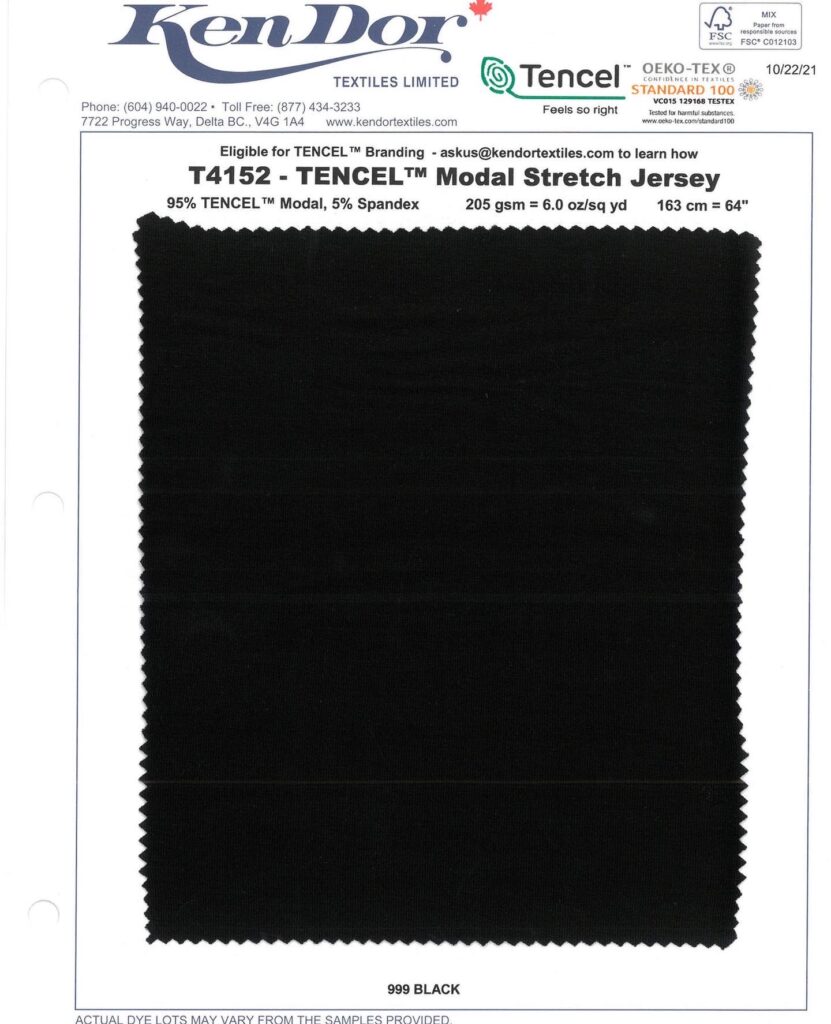 Once I ordered the fabric and worked with Rodica to finish the first garment, we tried it on Sahara Davis, the fit model that worked with us to test all of my collection's looks. I made a few adjustments to make sure the garment really represented the look and fit I wanted.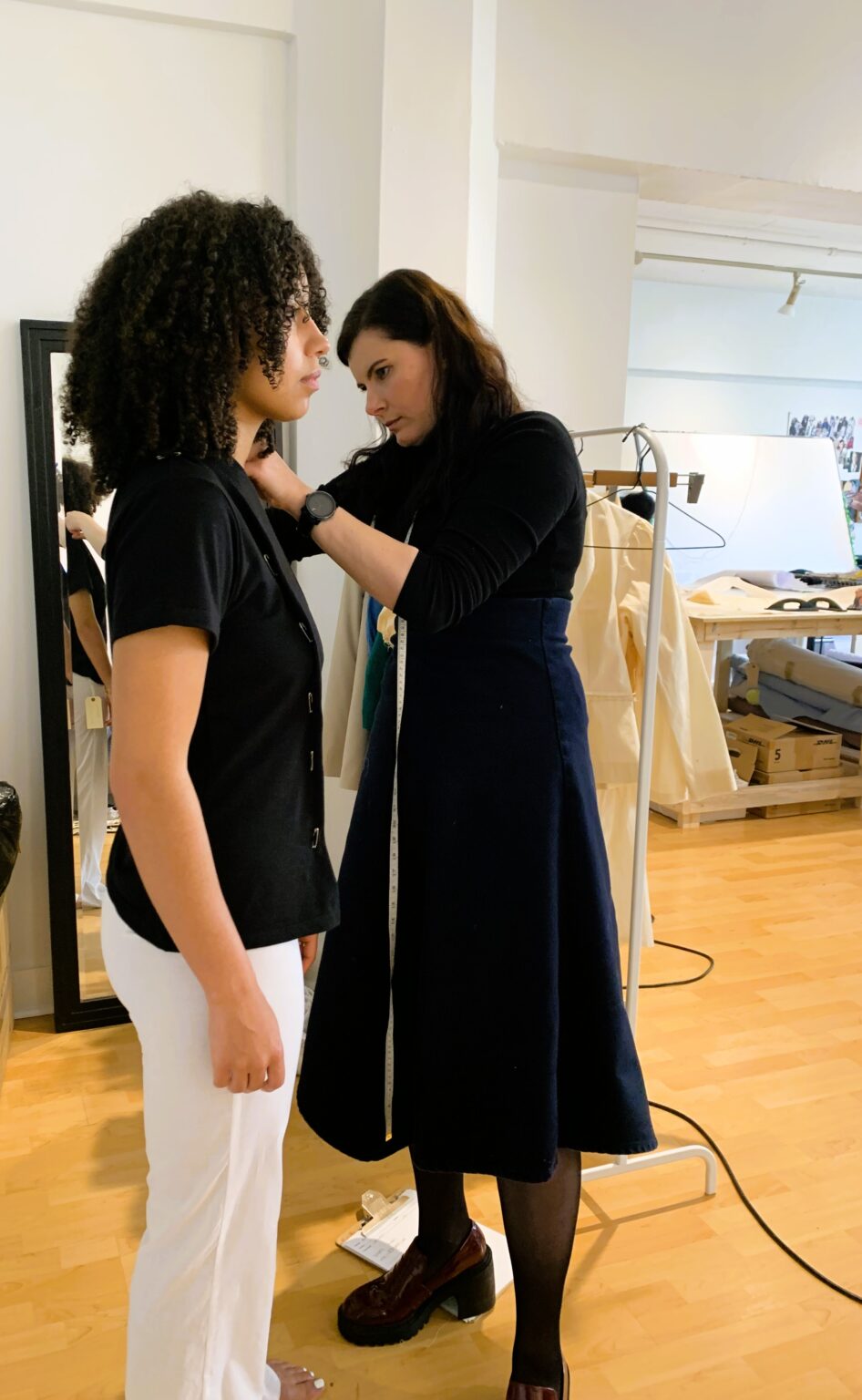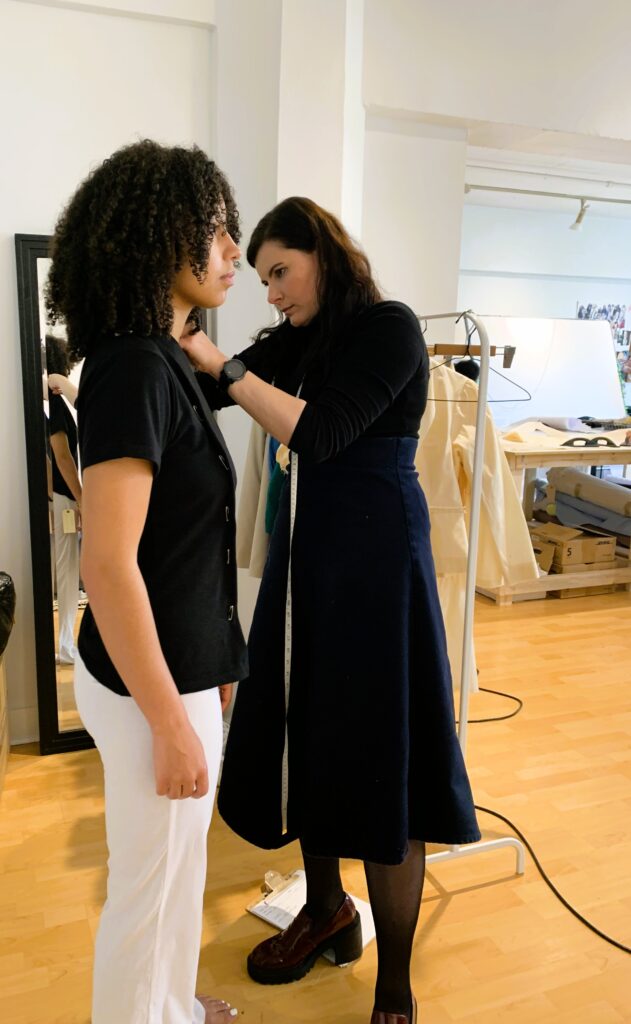 Then, we tried the look again on the fit model until I approved the design. Rodica managed the screen printing of the emblem, and we tested it one last time to ensure it was exactly what I envisioned. It was a success!
Adding the tee to my collection
With all of the wonderful elements that were inspired by my travels, I wanted to create something timeless but fresh at the same time. I'm so happy with how the retro tee fits within the rest of my collection.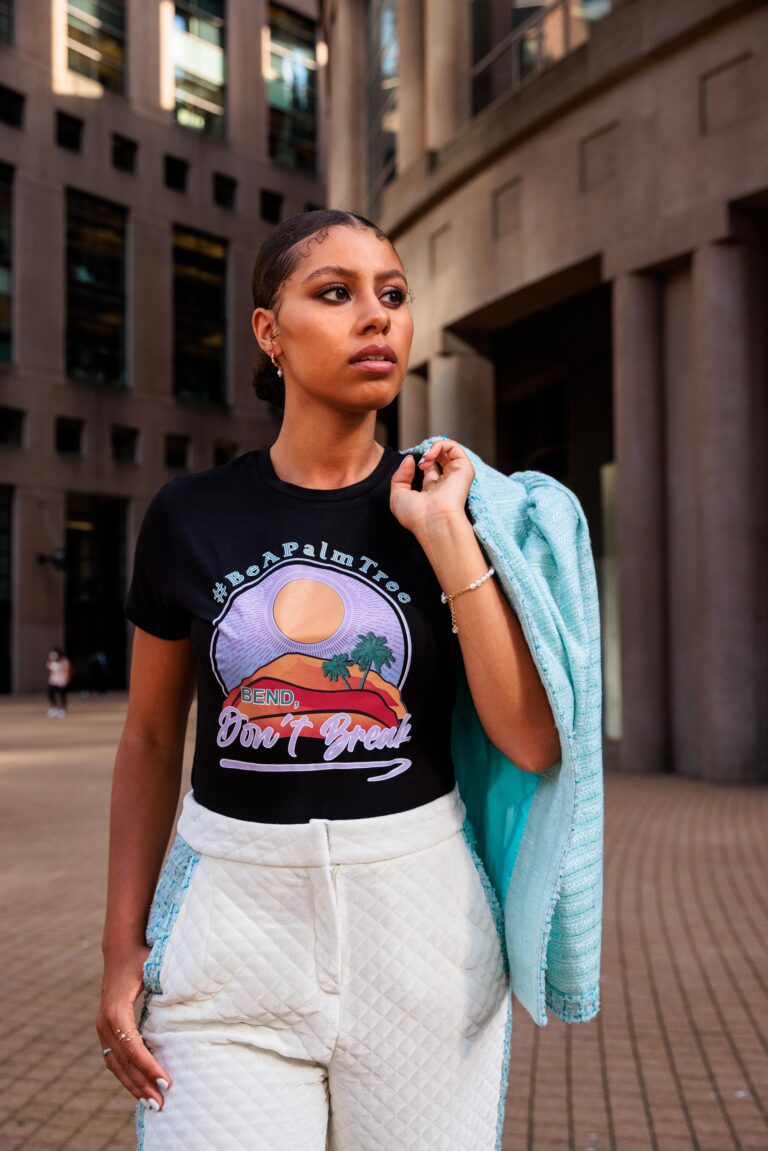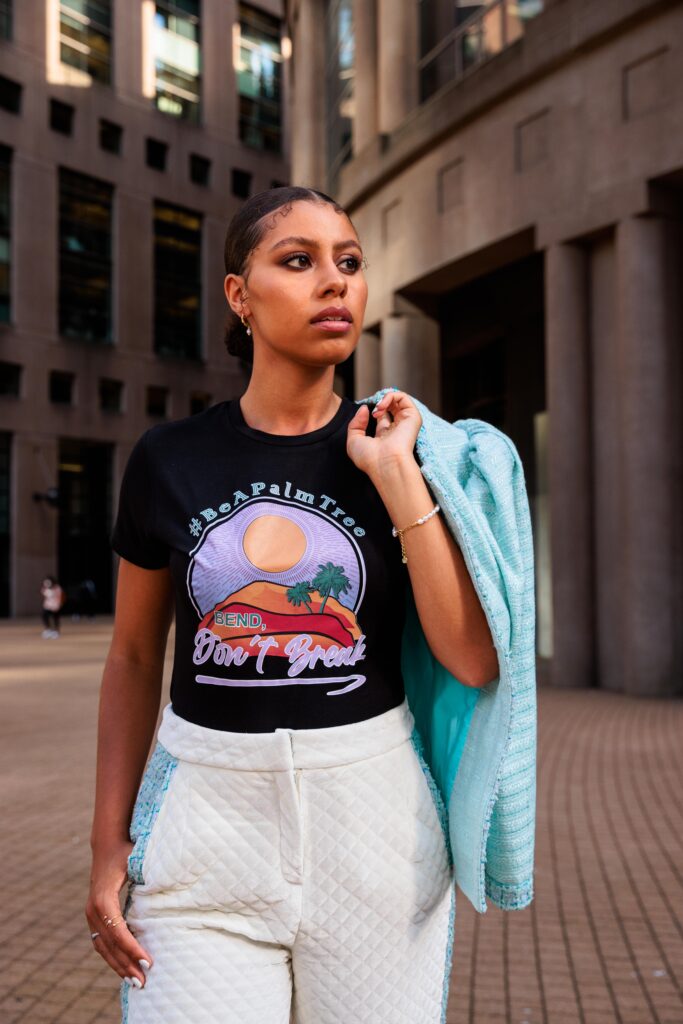 Some looks reflect classic luxury while others provide some retro disruptions like the #BeAPalmTree tee. I love how pairing the tee can look playful with shorts, elegant with business casual pants, or sophisticated with a classic tweed pencil skirt. I love a tee that can be dressed up or dressed down!
I believe I was able to achieve elegance and sophistication with this look while keeping it chic and on-trend at the same time. I'd say this of every piece in my collection.
Every garment has a unique story that evokes feelings in the audience, as evidenced by the feedback I received after my runway show.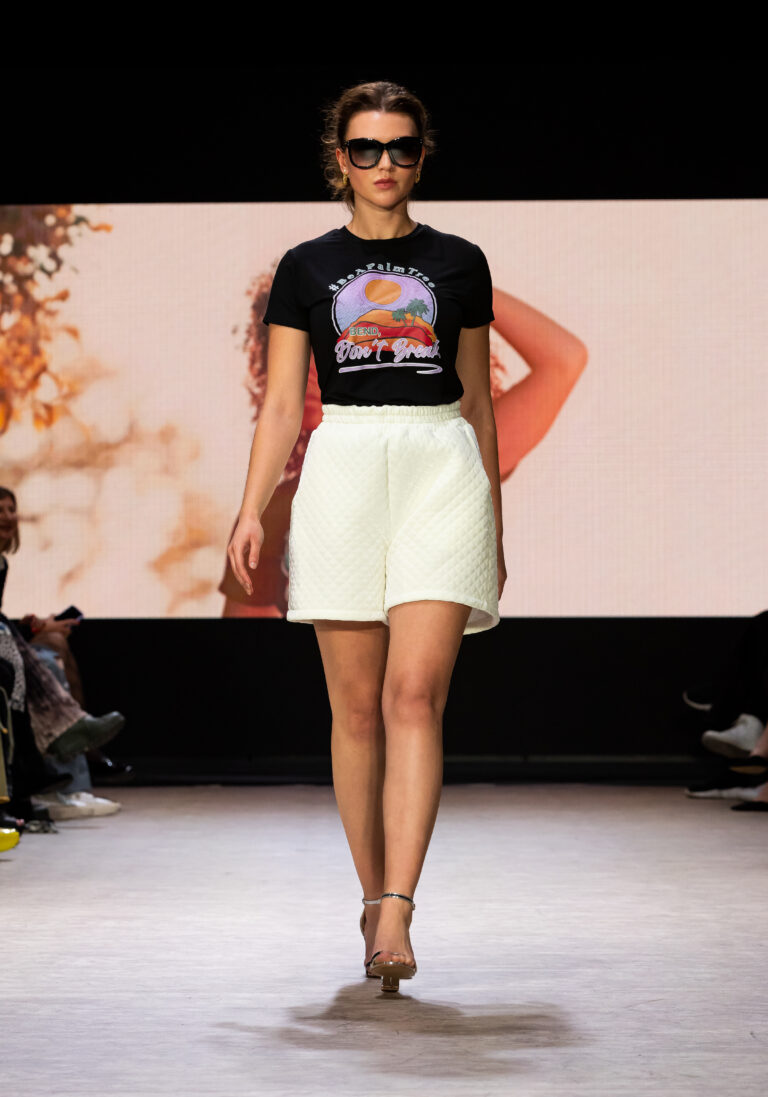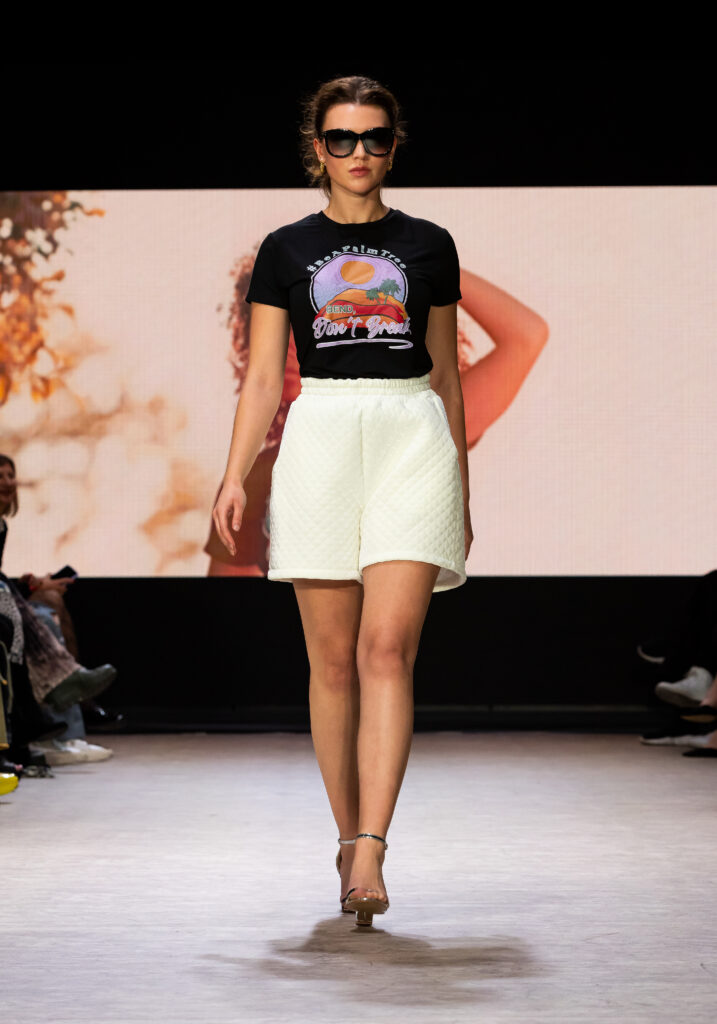 As I stated in Style Canada's Magazine, "María Correa sees a bright future for her brand, not only because her designs can captivate audiences, but because there is a promising future in the slow fashion movement itself."
I can't wait to release the retro tee for pre-sale soon!
In the meantime, remember you are more like a palm tree than you may think.