It was 3:00 am in Dubai on November 30 last year, when I received a text message from my dear friend Rita for whom it was 3:00 pm in Vancouver. I was staring at the ceiling in my bedroom at the Ibis World Trade Center Dubai Hotel. I was already wide awake due to my jetlag and excitement. In her message, Rita told me she was thinking about me. Part of our dialogue was as follows:
Rita: Hello, my dear, how are you? I have been thinking a lot about you, so please, tell me, how is your adventure called Dubai going?
Me: Ritaaa, I'm so excited! This experience has been so cool and so enriching, my friend! It's 3:00 am and I have been awake for a while now, as I'm not able to sleep anymore. I'm only passing the time imagining and imagining so many designs for my collection. After being here and learning even just a bit of such a marvelous country, having appreciated its climate, Architecture, people, etcetera, I just feel that everything gives me inspiration for something totally different than what I had imagined as my first collection. Let me tell you, Rita, that I just had an epiphany and after this, I'm going to forget any hint of what I had in mind before this trip and I'm going to do what I really want now: The Dubai Collection. I just can't get over the emotions, my friend!
Rita: Wow!!! My tears of emotion came out…I just think your collection will be…wow!!!
Me: I'm also crying of joy, my dear! I'll tell you one thing: life is too short for us to think about things little by little…we need to do all those things that make us excited and passionate when we think about them. So, now that I'm here, so awake thinking and feeling this overwhelming excitement, I'm just going to open my sketchbook and draw, draw and draw.
Two days earlier, began the special event that took me to Dubai: The International Apparel and Textile Fair. It was at the beginning of November when I made the decision of traveling for this textile fair, after I had officially registered my Sustainable Art and Fashion business as sole proprietor, I had applied for my Business License, and I had submitted my application for a grant to take a workshop on Digital Marketing.
But why make the decision to venture all the way from Vancouver, Canada, where I live, to the far flung United Arab Emirates just "to look for fabrics"? The answer, very fortunately, was quick and simple: finding the right fabrics for an apparel collection, which is one of the most time consuming and determining aspects of the success of launching a clothing line, is always better and faster if it is done in person and where you have access to a good number of textile options to touch, feel, look at, observe. In my Factory 45 "Fabric Sourcing" courses they had mentioned it the textile fairs as something theoretically advantageous, and this time, I decided to take the step from learning the theory to live first-hand experiences. It was so scary and exciting at the same time!
Following, I will show some images of the textile fair and, speaking of textiles, I cannot fail to show you pictures of two superb garments that I love so much, and I proudly wore for my first day in the trade show: my Oaxacan huipil -which is about twenty years old and still beautiful- and my rebozo -which I'm not sure where it is from, but it could be from Estado de México, Morelos, Puebla, Michoacán, Guanajuato, Guerrero, San Luis Potosí or Chiapas. Aren't they gorgeous?
Also, you will see me wearing a dress made from digitally printed linen. It is one of the first designs I created, inspired by my painting called "Bodhicitta" (2015, oil on canvas).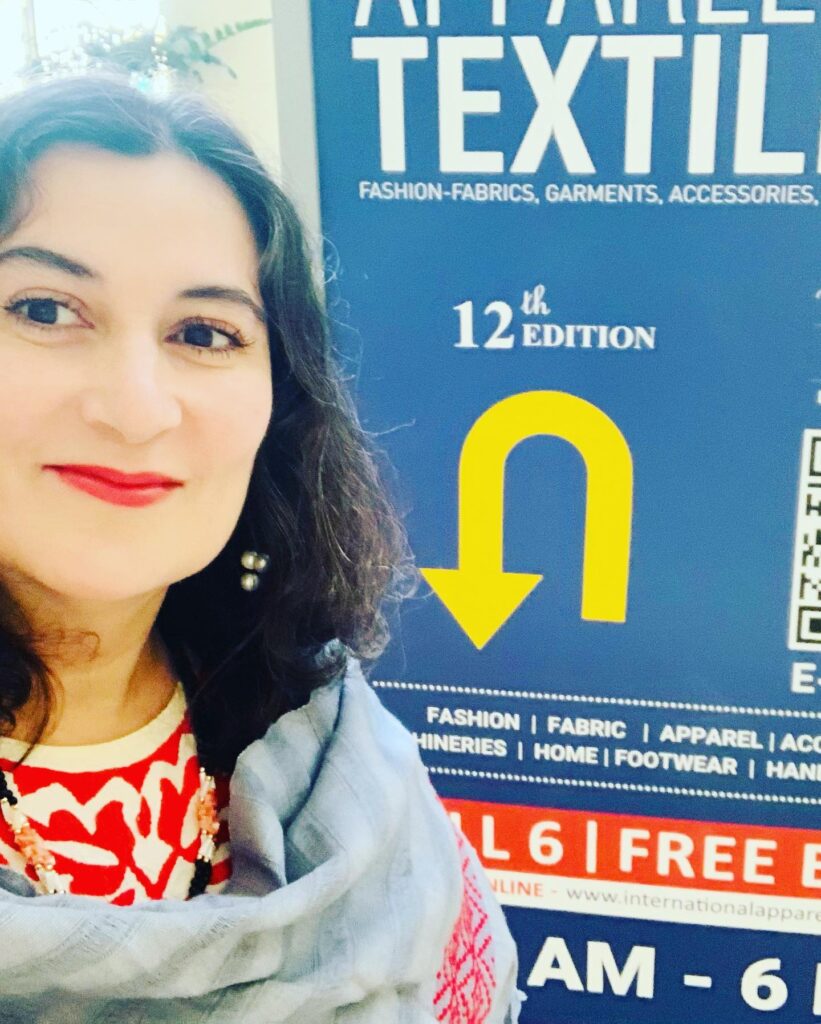 Before the textile fair started, I had the opportunity to take a one-day tour of Dubai. Its urban landscapes, its skyscrapers, its sea, its islands in the desert, its wonderful people, its colors, its flavors, its culture, etcetera, made me marvel and inevitably fall in love with this beautiful country. I remember the night of my first tour for Dubai when I went to bed so exhausted that my whole body ached and I had the worst calf cramp in my life, but I was so happy that I was really enjoying that tiredness and satisfaction that resulted from walking and walking, marching new paths, perceiving smells and flavors, watching people, taking so many photos, trying to learn all new things in my excursion.
Well, enough words for this post. Now let me try to convey to you with just some of the images of Architecture, patterns and shapes that I found fascinating during my short but incredible tour of Dubai, which left me full of inspiration and wonderful emotions to capture in my little sketchbook.
Would you like to see my sketches? Stay tuned and don't miss my next blog post where I'll show you some of the drawings I made while in one of the most breathtaking places on Earth! (Spoiler: the highest floor in the tallest building in the world!